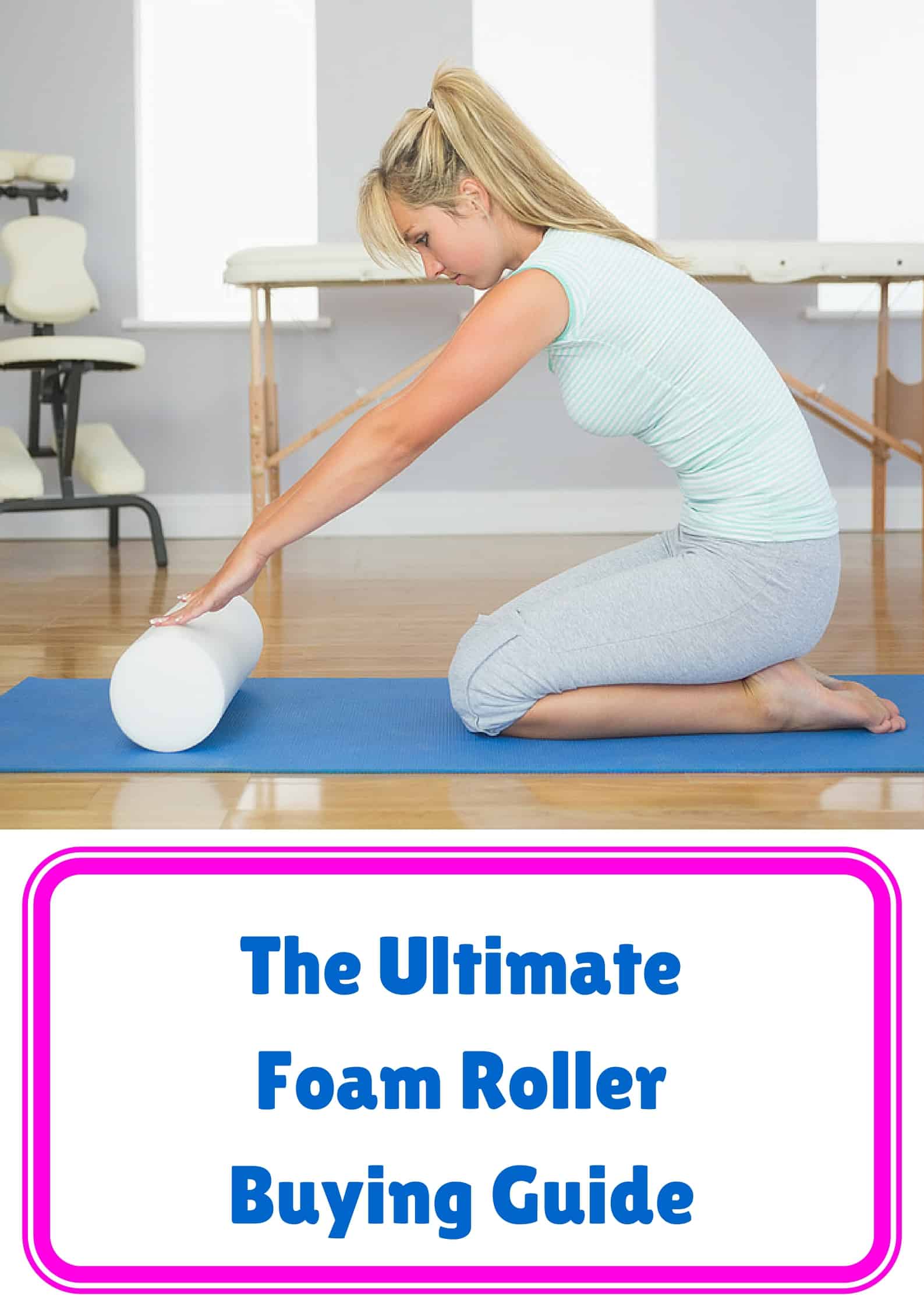 The foam roller is a tube-shaped self-massager that allows you to loosen up those tight and nagging muscles. You can also use them for warm up before working out, as well as for cool down and recovery afterwards.
The foam roller helps you improve your muscular health and allow your body to exercise in good condition with regular usage. Today's studies revealed that sitting all day is harmful for your overall health, and regular foam rolling is a must-have for anyone with a daily routine in this setting.
Athletes, meanwhile, should regularly use a foam roller to prevent injury, reduce recovery time, and boost performance.
Best Foam Rollers | Our Foam Roller Reviews
It is advisable to make a comparison of the different kinds of foam rollers available on the market. Here are some of the best foam rollers out there that you can consider:
This foam roller is available in three different sizes: 5-, 13-, and 26-inch. The X Extra Firm version of the 13-inch model, however, offers additional firmness for those who need it. The unique zones of the foam roller's grid is probably what makes this product in demand. Aside from its solid construction, you can see that this roller has low and high points, and varying grid sizes across the surface. Such features allow you to roll over the different textures based on your target body part, or mix it up for the same muscle group.
The Grid Foam Roller's design is perfect for loosening tight muscles on the harder to reach areas, and for relaxing uneven knots that a traditional roller might not be able to address. It should be noted that this roller is more stiff than most foam rollers. This means you can apply more pressure to reach the deep knots. The Grid Foam Roller costs around $50 on Amazon.
---
EPE foam rollers are perfect for those who have never tried a foam roller before, and are not willing to spend a lot of money for one. This product is a bit softer than most EVA foam rollers, which means it is ideal for first timers. These EPE rollers come in a wide variety of sizes and color. If you are only starting out and on a tight budget, then this roller is a reliable and durable option.
The EPE foam roller falls in the $10 to $30 price range. The sizes available are 6" x 6", 12" x 6", 24" x 6", and 36" x 6".
---
The Rumble Roller, which costs around $40 to $70, is one of the more unique foam rollers that is covered in flexible and firm bumps for deep tissue stimulation. It is a durable roller made of high-quality materials. This product, however, is not recommendable for beginners as using it requires more control to achieve the most benefit. It is perfect for those with more experience in using foam rollers, such as athletes who want to have more access to the hard-to-reach spots.
The foam roller's surface is covered in firm squares. You can choose between the half- and full-size.
---
If you are looking for a smooth foam roller, then the j/fit EVA roller is one of your best picks. This foam roller features a high-density EVA foam and a heat class seal. The manufacturer of this product claims that their roller is the "longest lasting." The material used for this roller is much more durable than the EPE foam rollers. If you are willing to spend more on a roller, then this could be your best option.
The j/fit roller offers a solid construction for a reasonable price of $10 to $70. This product also comes in a wide variety of sizes and colors, as well. You can choose between the 12-, 18-, 24-, and 36-inch j/fit roller.
---
The Barracuda Cork Roller is one of the toughest rollers out there. If you are an athlete, or simply somebody who is searching for a firm roller surface, then this could be your best option. This product is not ideal for first-time foam roller users as it can give a more grueling rolling experience.
This 18-inch foam roller offers the deepest self-massage possible, releasing the tension from your stubborn trigger points. While this roller is more expensive than most foam rollers on the market, its flat cork surface will prevent it from losing shape as you press your body against it. The Barracuda Cork Roller costs between $30 and $50.
---
The AccuPoint comes as a hybrid between the Rumble and the Grid rollers. This foam roller features smooth areas, and contoured bumpy areas to target various problem areas. First-timer roller users can purchase this product as it offers the versatility that cannot be found in other rollers. You can choose how you want to massage your muscle by positioning yourself on the roller.
The AccuPoint foam roller is 13" x 5" big, and falls in a price range between $15 and $30.
What to Consider When Choosing a Roller
With the wide variety of foam rollers to choose from, it is important to determine the factors to be considered when choosing the best design for you.
It is strongly recommended that first-time users should choose a less dense foam roller. This will allow them to gauge how much pressure they can handle before moving on to a denser and firmer model. It should be noted that the goal is not to apply so much pressure on the roller as it will cause pain. The foam roller was designed to help tight muscle areas to relax, and this can be achieved by opting for a less dense model.
Durability is an essential part of the foam roller buying process. If you want to have a long term relationship with your foam roller, then you need to find one that lasts. It is best to invest in a foam roller that can last for a long time, even if it means spending a few more bucks. This is because the cheap ones might not be able to withstand the pressure that your body regularly applies.
If you are a first-timer, then it is ideal to purchase The Grid or the EVA roller. Both of them are not only reasonably priced, but also durable enough to last for a long time. You can also help your roller last longer by storing it in a safe place, and wiping it down after every use. Doing so could extend the good condition of the foam roller's surface, which is likely to break down first.
Foam rollers with smooth surfaces are perfect for beginner roller users. This would allow them to adjust their weight and feel how the foam roller works before purchasing rollers with grids and sequares. If you are someone who is looking for a specific tissue massage, then it is highly recommended to purchase the AccuPoint Roller. This product has smooth and bumpy areas, allowing you to play with the different textures and gain more experience.
So what size of foam roller should you get? It is important to know that the ideal size of a foam roller depends on your body size. Average-sized users are perfect for mid-sized rollers, which are around 12 to 16 inches. The taller ones, meanwhile, may opt for longer rollers that range between 16 and 24 inches in order to hit all the problem spots without adjusting the positioning. The smaller-sized ones are best for storage and traveling. Foam rollers of this size are not recommended for daily use as they require frequent repositioning and additional work to achieve your target tissue stimulation.
Your budget might hinder your from purchasing your desired foam roller. The many foam roller brands and styles mentioned earlier can allow you to choose which will fall within your budget range. If you are on a tight budget, then you can either choose the j/fit roller for a smooth surface or the AccuPoint roller for a more varied surface. Both of them are solid models being sold at reasonable prices.
How to Use the Foam Roller
Foam rolling was designed to improve the fascia's mobility. The fascia is a fibrous layer of connective tissue surrounding the muscles in your body. When mobility is limited, the fascia bind to the nerves and muscles. This inhibits normal body motion and could cause pain, or even lead to injuries.
Most athletes will opt to stretch their body to keep their muscles healthy. Stretching, however, is not always enough. Foam rolling can be done daily. When you do this, always make sure that you roll along the entire length of the tissue that you want to work on.
If you want to loosen your tight hamstring, then you need to roll from the hip to the knee. You will encounter some tender spots as you roll, and this is okay. In fact, you need to go over them to decrease the tenderness and increase mobility.