Potato chips are classic snacks that we just can't get enough of. It's the combination of tastiness and crunchiness when you bite into these chips that make them great. But it's not all about potatoes. Healthy alternatives to chips use vegetables other than potatoes and can even include fruit. Let's take a look!
13 Healthy Alternatives to Potato Chips
1. Kale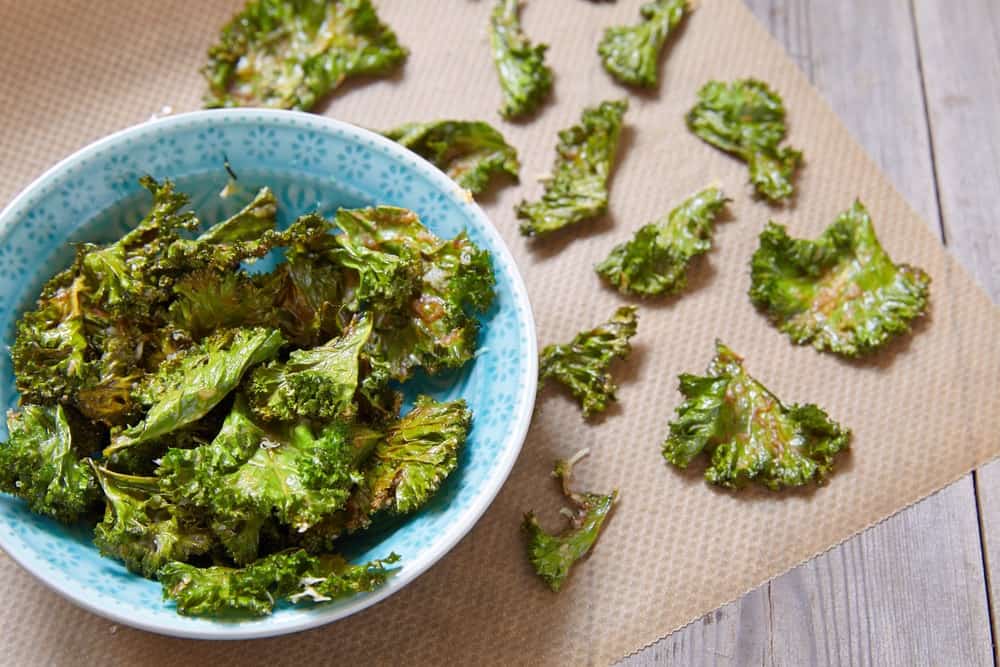 Kale chips are becoming a fad for health nuts out there. Kale is closely related to broccoli in taste, and is packed with antioxidants. Several ways of serving kale makes for a yummy crunchy snack. Here's one:
How to prepare:
Preheat oven to 375 degrees.
Rinse and dry your kale leaves.
Tear leaves into bite size pieces and remove all hard stems.
Toss with olive oil (but do not get them dripping with oil).
Spread the leaves over baking sheets then sprinkle some salt over them.
Bake them for approximately 10 minutes. Do not let the chips get brown on the edges.
Enjoy as crisp kale chips, or even as a salad topping.
Be very careful as they tend to burn easily.
2. Carrot
Carrot chips will give you beta carotene and Vitamin A. With a bit of nutmeg, cinnamon and orange juice, they will definitely be a treat!
How to prepare:
Preheat oven to 250 degrees.
Slice carrots into 1/4-inch-thick slices.
Toss with 2 tbsp of orange juice, half a teaspoon of cinnamon, and a quarter teaspoon of nutmeg.
Arrange on a baking sheet with parchment paper and bake for 45 minutes, turning them periodically until they are ready or until they have attained the desired crispiness.
Enjoy!
3. Turnip
Turnips are a very good source of Vitamin B6, giving you better appetite. Some people prefer not to skin them, so give them a good scrub before baking.
How to prepare:
Preheat oven to 425 degrees.
Slice turnips as thin as you can (1/4 inch thick or less)
Toss with a couple good glugs of olive oil (3-4 tbsp) and a teaspoon of sea salt
Arrange the slices on a baking sheet and cook for 30-35 minutes. Remember to flip them around the half-way point so they cook evenly.
Once they are out of the oven, sprinkle with freshly cracked pepper (1/2 teaspoon or to taste), and some Parmesan cheese, again to taste. I like to add a lot of Parmesan but you can add as much or as little as you like. Enjoy this tasty healthy alternative to chips!
4. Beet
Beets have antioxidant, anti-inflammatory and detoxification properties. The roots are going to give you these deep purple color and amazingly sweet, best enjoyed with a dollop of goat cheese.
How to prepare:
Preheat the oven to 350 degrees
Slice into thin round pieces using a mandolin slicer or a knife
To get rid of moisture, arrange the slices on a cutting board, or a paper towel, then sprinkle a salt layer evenly.
Let them sit for 10 minutes before tossing them in olive oil.
(optional) Add some spices, such as pepper, chives, or rosemary.
Bake them for 20 minutes, and turn them over for another 10-20 more minutes
Fresh beets usually contain high amounts of moisture, and if you don't 'sweat' them (steps 3 & 4), you will end up with soggy chips.
5. Apple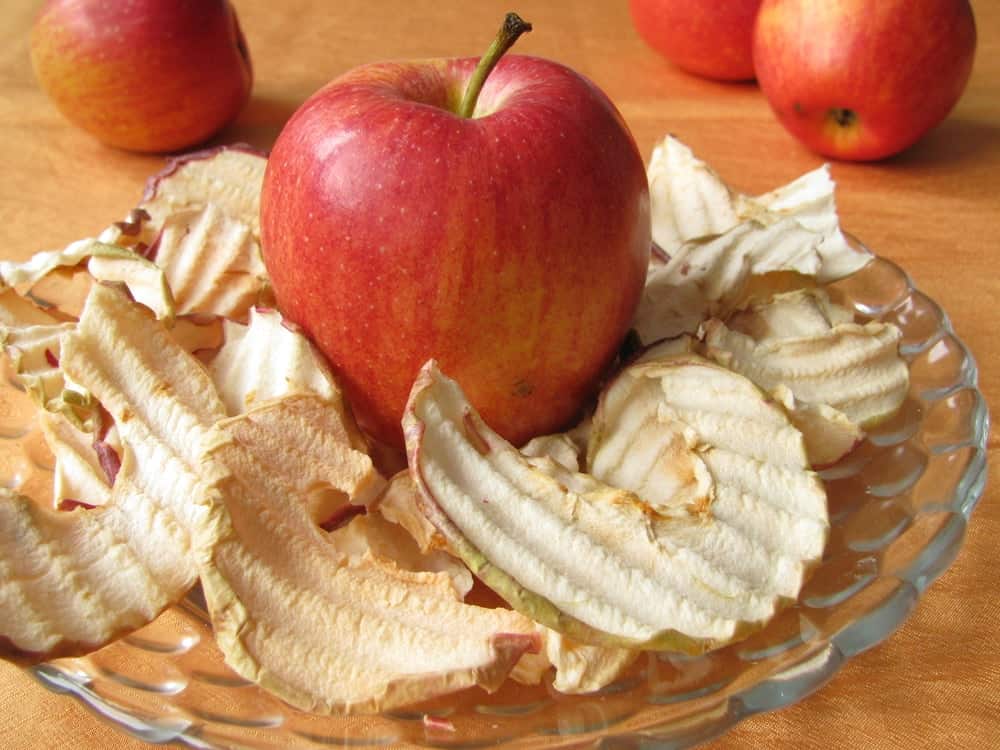 Healthy alternatives to chips don't have to be savory. How about using some apples to get your snack on? A lot of things like nutmeg, pumpkin pie spice, cinnamon, ginger, or nutmeg will enhance the flavor of your apple chips. My favorite is adding a bit of cinnamon to them.
How to prepare:
Preheat your oven to 225 degrees.
Slice your apples to about 1/8" thick using a sharp knife or mandolin slicer.
Use the knife to get rid of any seeds then place the slices on the oven baking sheet.
Sprinkle with cinnamon or any other spices you want to try.
Back for 1 to 1 1/2 hours, turning the slices over at least once every 30 minutes. Keep an eye on the slices to ensure they attain the desired crispiness.
Enjoy!
6. Taro
Taro chips are something I am familiar with. They are a nice, sweet, healthy alternative to potato chips and is a good source of dietary fiber and Vitamin E.
How to prepare:
Preheat your oven to 400 degrees.
Set your mandolin to the lowest setting then slice lengthwise, or use a sharp knife.
Place the taro slices on baking sheets with parchment paper and brush each slice with olive oil.
Bake for approximately 20 minutes until the edges are crisp brown.
Season with salt.
Dig in!
7. Banana
Banana chips are best for people looking for a sweet alternative to chips which are nutritious and yummy at the same time. Packed with Vitamin C and B6, you can drizzle them with honey, yogurt, or cinnamon to enhance their flavor.
How to prepare:
Preheat the oven to 225 degrees.
Slice bananas into thin slices (1/16") and place them separately on a baking sheet lined with parchment paper.
(optional) Brush them with honey or cinnamon for flavor.
Bake for approximately 2-3 hours checking them every 45 minutes to peel them up from the parchment paper for better air circulation.
Ensure the chips have deepened to brown or dark gold color before removing from oven.
Allow them to cool to a crisp.
Tip: bananas tend to brown once you cut them, so if you are doing a large batch, a useful tip is to brush the slices with lemon juice.
8. Sweet Potato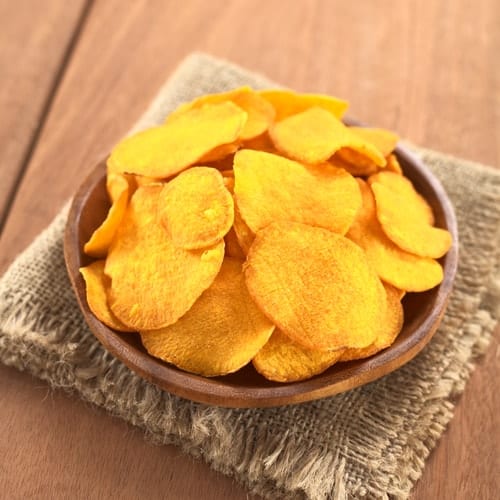 Another favorite, sweet potatoes are packed with Vitamin A. I enjoy them brushed with olive oil, seasoned with minced garlic, rosemary, and fine sea salt. Mmm.
How to prepare:
Preheat oven to 400 degrees and position rack in the middle.
Peel 2-3 medium sized sweet potatoes.
Using a sharp knife or mandolin, cut sweet potatoes into 1/8 inch thick slices.
Mince 3-4 garlic cloves.
Mix minced garlic and 4-5 tbsp olive oil in a small bowl.
Brush 2 baking sheets with olive oil and place your slices evenly; do not overlap.
Brush garlic oil on the tops and sprinkle them with salt and rosemary.
Place baking sheets on the rack in the middle of the oven and bake for 10-20 minutes until edges are brown and curly.
Yum!
9. Hummus
Hummus chips are made with chickpea powder and you can make them as plain or as spicy as you want. I enjoy a bit of lime and chili in mine.
How to prepare:
Preheat the oven to 350 degrees.
In a bowl, combine 1 cup of chickpea flour, 1/2 tsp of salt, and 1 tsp of chili powder.
Stir 1 tbsp of olive oil and a squeeze of lime.
Add 40-50ml of water (~1/4 cup) and bring together into a dough.
Roll the dough into a log (cylinder) and cut into 1/8 inch slices.
Transfer the chips to a baking sheet lined with parchment paper.
Bake for 12-15 minutes, until lightly browned and crispy.
Allow to cool completely so they have a crunch.
Enjoy!
10. Radish
Radish provide you with Riboflavin and copper. Power up these healthy chip alternatives with curry, turmeric, garlic paprika and pepper.
How to prepare:
Preheat oven to 350 degrees.
Slice radishes into a quarter inch-sized chips and put them in a microwaveable bowl.
Microwave them for 30 to 40 seconds to soften them up.
Drain any liquid and add them to another larger bowl.
Add the olive oil, cinnamon, and honey and mix well to coat the radishes.
Spread the pieces on a baking sheet, ensuring they are evenly spread.
Bake for 15 minutes before flipping the radishes. Reduce temperature to 220 degrees and bake for 20 more minutes until they shrink and crisp up.
11. Pita
Pita chips are easy to make and soooo tasty. You can do just about anything with these healthy alternatives to chips too. If you don't have time to make your own, I suggest you use Stacy's pita chips and crisps.
How to prepare:
Preheat oven to 350 degrees.
Cut pita bread into 8 triangular pieces.
Spread pita triangles in one layer on large baking sheets and brush each side with olive oil.
Sprinkle them with lemon pepper and place them in the oven.
Bake for about 10 to 15 minutes until they turn golden brown and crisp.
Eat on their own or serve with hummus. Yum!
12. Zucchini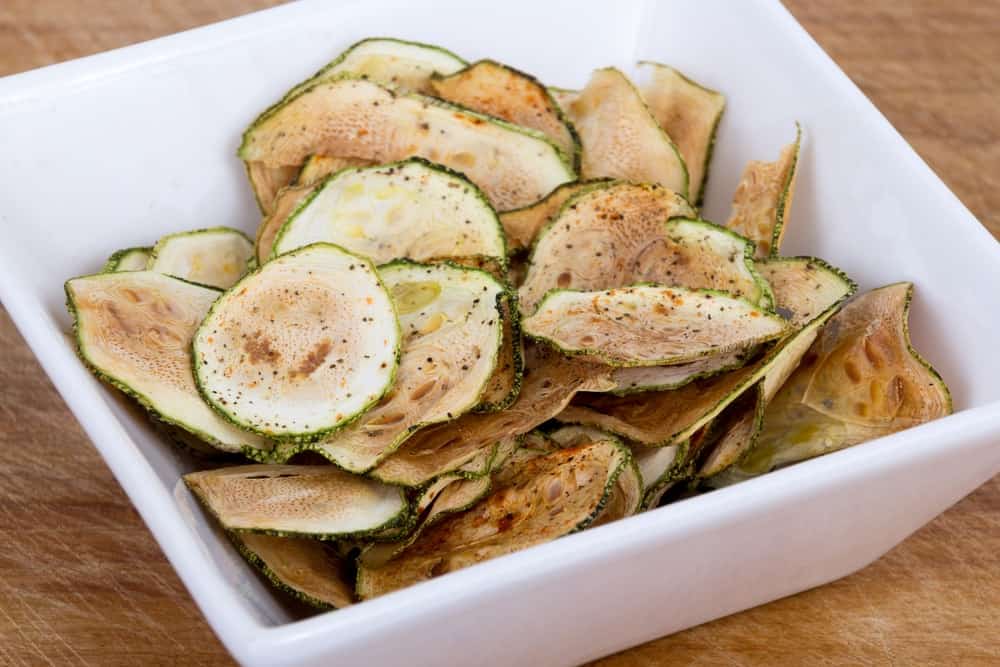 Zucchini are a source of B vitamins, niacin and thiamine, which give your hair and skin a healthy look.
How to prepare:
Preheat oven to 425 degrees
Dip chips in egg whites and coat them with parmesan, black pepper, and breadcrumbs.
For good air flow, these are best cooked on an oiled/greased rack. Alternatively, use a baking sheet with parchment paper.
Bake for 20-30 minutes until the slices turn brown and crisped. If using a baking sheet, flip them every 10 minutes to ensure they cook evenly.
Allow to cool completely before snacking.
Enjoy them on their own, or maybe with a marinara sauce or healthy ranch dressing.
13. Soy-based chips
Not something you can really make on your own, but if you are looking for something to take on the go, there are some tasty soy-based options available. If you can get them, Glenny's barbeque soy chips are sweet and smoky. The best organic soy and rice flour are used to make them.
Alternatively, try the Barbecue & Sea Salt Vinegar option from Wholesome Provisions. These gluten-free, keto-friendly snacks taste great and can power you through a work out or the end of your work day.
Bonus tips on how to make the best healthy alternatives to chips
The best chips are obtained if you follow a few simple tips:
A mandoline can help you obtain even, paper thin slices a lot better than regular knives.
If you're baking chips, make sure you line them on the baking sheet with parchment paper in single sheets, so edges will cook evenly — that's the secret to the crunch.
Rotate the pan and flip the chips for even baking.
A toaster oven will suffice if you're making smaller batches.
Chips should be stored in airtight containers. Even so, there is no guarantee they will stay as crunchy as the first time you take them out of the oven. Thus these tasty alternatives to chips are best consumed immediately!
We hope these suggestions provide you yummy alternatives to potato chips. You'll discover that these recipes are a healthier option but they don't lack for flavor or options. Enjoy these healthy alternatives to chips tonight. Bon appetit!
Also read: 20 Tasty and Healthy Negative Calorie Foods!